Eyelet style information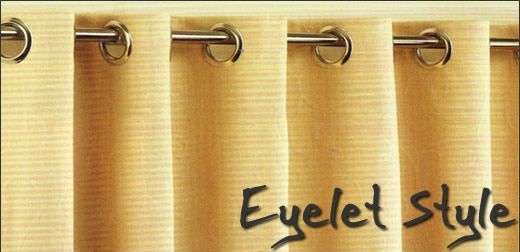 Eyelet curtain information
Eyelet curtains (or grommet curtains) are made with cut outs in the top of the fabric which are covered and reinforced by eyelet rings. This style is sold flat and can be adjusted to fit various window widths by reducing or stretching how much the curtain is slid along a rod.

This is a contemporay windo treatment. A very popluar style due to its simplicity and sleek silhouette.

Hanging - Eyelet curtains thread onto a curtain rod. They do not hang on tracks or require curtain hooks for support.

Stackback - the term used to describe the amount of space a curtains needs when open. Eyelet curtains have a neat stack back. The curtains open into a compact fold. For a full looking curtain we recommend using a curtain which is double the window width.
---
---